I look for you, oh-eh-oh
Below that moonlight that illuminates me

I look for you oh-eh-oh-oh-oh
I don't know where the end is but hey

Tonight tonight tonight tonight
I still don't understand love
Pitifully alone once again, tonight
Since I had a wonderful experience
with my first K-Pop concert a.k.a BigBang in Singapore
(minus the weird teamwork between promoter & local security),
plus I have new pretty friends from Japan & Singapore...❤
(plus I just found out that I can come to the Indonesian one,
after I came home from Singapore)
So, I decided to buy the ticket & hoping the same experience
with the Singaporean concert.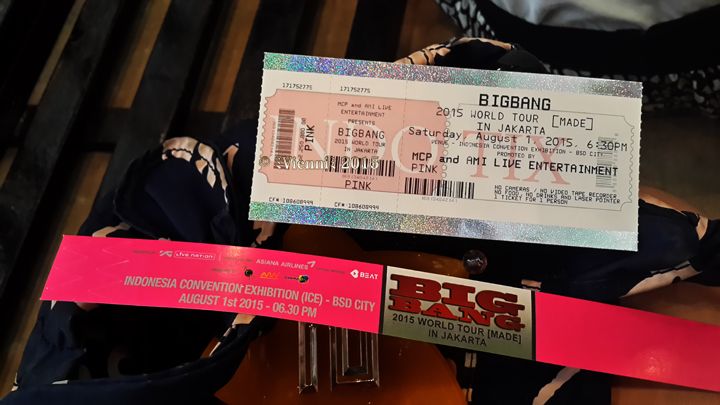 With my YB fan, lightstick ver. 3 & GD's stuffs.
YB fan from my Japanese friend.
The lightstick & GD props are from my friend, Shinka.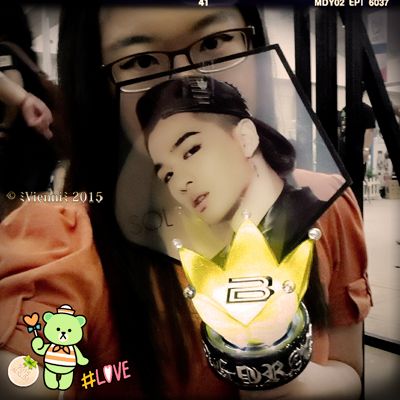 Everyone around me asked about it while waiting for the concert.
"Where do you get the YB fan ?"
"Omooo, pretty bracelet, where do you buy it ?"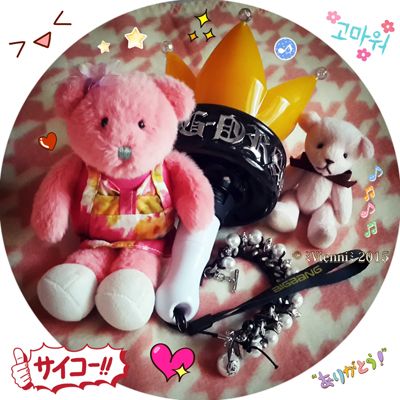 I got sponsored eheheh...
Thanksss, my pretty friends !

First of all, no, I'm not mad at BigBang.
Absolutely no problem with these handsome guys.

I sincerely thank them for coming to my home country,
when I know they're very tired between having new songs,
new album, and of course a long schedule of world tour until
January next year (so far).
I get new beautiful friends as well in this concert.
And met up with my Singaporean friend as well.
I miss her already !
Should hang out with her more when she comes back.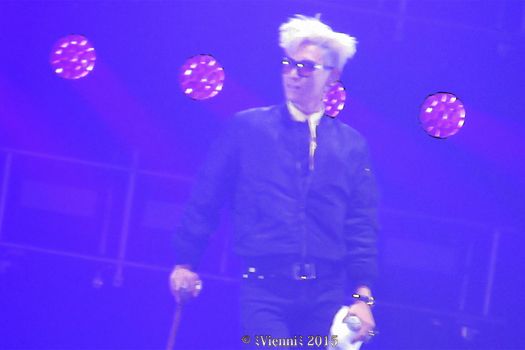 But sadly, the concert itself was terrible.
I'm very dissapointed and angry with it.
Not to BigBang's performance, note that.
It's more less describe the concert.
Yes, the stage was small, not like the Singaporean one.
The sound system was on-off in a few parts.
They had to cut the encore
cause they need to catch the flight back to Korea.
I was sad about that.
I still wish they would have 4-5 encore songs.

But I understand the reason behind it.
I prefer they can go back home & get enough rest.
They have such hectic schedule...
I will save up to see their concert again in the future.
Seeing their instagram updates also cure my broken heart.

My Bang Bang Bae (how I call each member of BigBang haha)
were all very energetic & all out.
Their perfomance was really great.

The lighting was awesome.
Esp. on Panda (Seungri) & TOP's solo.
They tried to talk in our languange,
which I find it's adorable of them,
esp. Panda always talk in local language in every concert.
But I didn't enjoy the concert.
It's not their fault. Really.
BigBang & their crews did their best,
to make sure we have fun in a safe way.

As far as I see... fans around me moved like crazy.
I got pushed really bad and my feet got stepped many times.
It was swollen and bruised pretty bad.
GD & YB also mentioned it on the concert.
They were hoping we can stay safe and not pushing each other.
And they never say that in the Singaporean one.
(I don't know other countries, I'm saying from what I experienced)
Too many fans with camera & phone that recorded the whole concert.
They were recording the concert non-stop !

I'm well aware if they want to record & take photos of Bigbang.
But please not from the beginning to the end.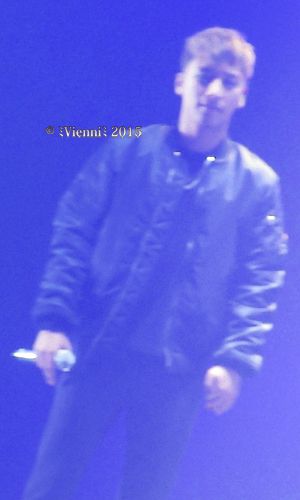 Other fans whom trying to enjoy the concert felt annoyed with it.
We couldn't see the members clearly.
Fans were taking videos and photos as well in Singapore.
But they did it in short period.
I wonder how Indonesian one can manage to record for 2~3 hours.
Didn't your hands get stiff ?

OMG, please consider other fans whom want to be happy.
We want to see these Korean idols, not your phone & camera.
1 of my new friends came all the way from other city
for her first BigBang's concert.
She felt dissapointed as well, how come other fans did such thing.
Tsk...
But thank God, my feet are getting better.
I'm happy though, even with the bad experience like that,
I got many support, esp. from my fellow VIPs from Japan & Singapore.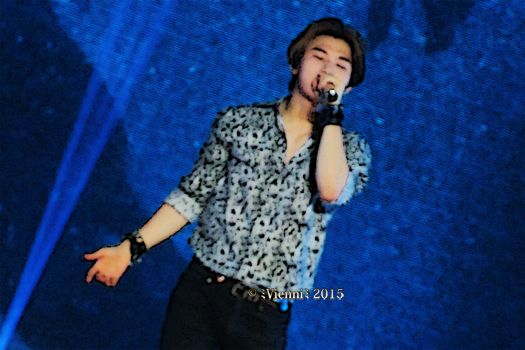 One more thing...
I'm talking based on my experience in Pink area,
which stood behind the VIP section (with the usual black blocker).
Tsk...
This is gonna be my first & last K-Pop concert in my home town,
if the promoter & local fans still like this (or become... even worse).

I wanna save up & go to the other countries,
that known for the great promoter & well-behaved fans.
I'm not saying all Indonesian VIPs are brutal or rough.
But I still have trauma with fans around me at the time.

This is not my first concert
and I've a few nice concert experience previously.
But these kind of things are not nice.
Please think about other fans' feeling.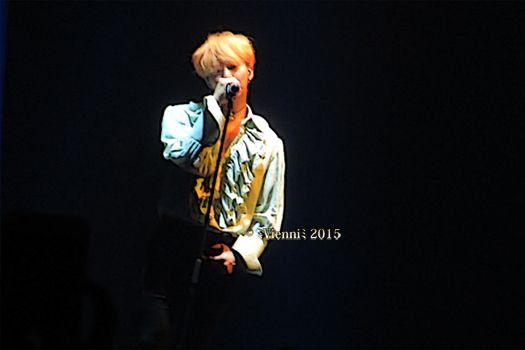 The only good thing about the promoter ?
They let us wait inside.
And of course for bringing beloved BigBang.
And I thank them for that.
I sincerely thank :
~ God
~ My family
~ My lovely new friends
~ My Japanese & Singaporean friends for the support





and of course to BIGBANG.
To... Taeyang, G-Dragon, Seungri, TOP, and Daesung.
Thanks for coming to Indonesia.
I hope I will have another chances to see all of you again.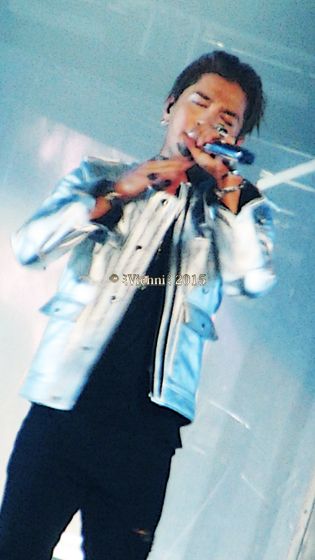 Let me hear your voice
If we become honest, surely
We'll be able to understand each other
Please open your heart

Let me hear your voice
The path we have come is, for us, definitely
An important STEP to that future
ミ Vienni ミ